Hardening Windows Part 3: Closing critical ports
Closing critical ports/Fermer les ports critiques
Disclaimer
: Close only ports that which are not necessary in your configuration.
For a single computer only used to surf (no Messenger and so on), only port 80 is required.
Avertissement
: Fermez uniquement les ports inutiles à votre configuration.
Pour un PC dit "isolé" (non relié en réseau) utilisé uniquement pour le surf (aucune sorte de messagerie utilisée), seul le port 80 est indispensable.
---
ENGLISH SECTION
***Audit your system for open/listening ports:


*Preventon test.


*PortDetective.

*Online scan:



For instance: ScanSygate (quick scan).

*Local scan:
-Netstat is a useful comand line but also very limited: Introduction to Netstat Tutorial.

NetStatViewer is graphic interface replacement for Netstat.

-Scan your local host (127.0.0.1) with very fast scanners:

PcSuperScanner (an advertisement pop up appears at the end of the scan).

Gnet (Direct download, in french only, useful network utility):

Run the .exe, click on "Options", choose "balayage" and type "1 " and " 65535" on the boxes.
For the results, only open ports are notified ("ouvert").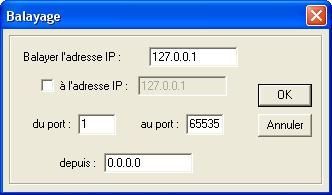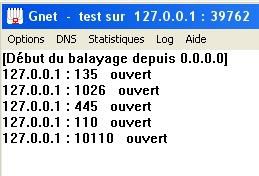 If all ports are closed: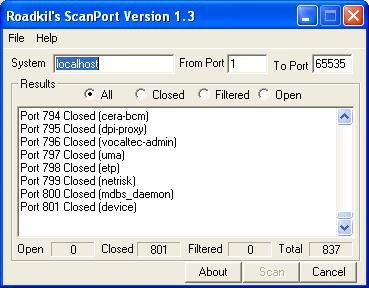 FreePortScanner
(screenshot) with the possibility to choose which ports to scan,

Blue's PortScanner (...)


-With ports monitors:

TCPView, ActivePorts (...)

For more ports utilities, take a look at this article (when it will be available).



***How to close critical ports:


*Closing Internet Ports by
Claymania
team.
*How to disable port 445 and NetBios by Daniel
Petr
i
.
*Closing ports utilities:
-
WWDC
by GKWeb/Guillaume Kadouch: very easy to use.

If critical ports are closed:




-
ZebProtect
by the Zebulon team: more exhaustive (security applet, convert Fat32 to NTFS, disable guest account) but less easy to use (for beginners) than WWDC.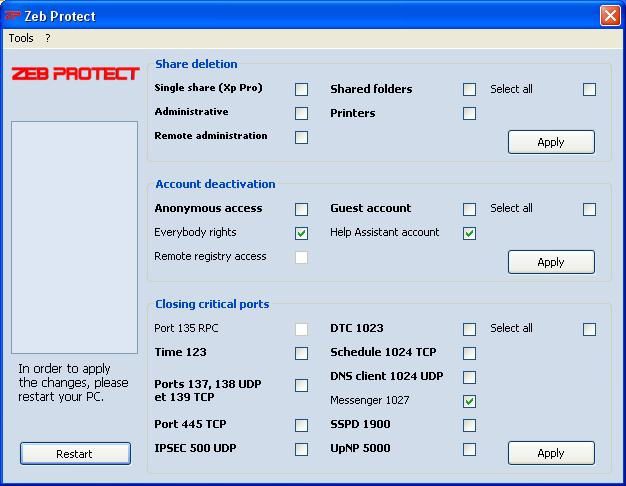 ---
SECTION en FRANCAIS
***Auditer votre système pour les ports ouverts/en écoute:




*Test de

Preventon.


*PortDetective.


*Scan en ligne:



ScanSygate.

*En local (127.0.0.1) :
-
Netstat
est une commande utile mais imprécise.

NetStatViewer est une alternative gratuite avec interface graphique.

-Avec des scanners de ports ultra-rapides:
PcSuperScanner
(pop up publicitaire à la fin du scan).
Gnet
(utilitaire réseau d'autant plus pratique que c'est un simple "exe").
Allez dans le menu "Options", choisissez "balayage" et entrez les ports à scanner (de 1 à 65535).

NB: voir les captures d'écran dans la section anglaise.

Pour une liste d'autres utilitaires, il suffit de jeter un oeil à la section anglaise ci-dessus, ou à cet article (quand il sera disponible).


***Fermer les ports critiques:


*Fermer les ports par
Claymania
.
*Fermer les ports critiques par l'équipe de
Zebulon
.
*Utilitaires pour fermer les ports:
-
WWDC
de GKWeb/Guillaume Kadouch: trés simple d'emploi (en anglais).
-
ZebProtect
de l'équipe de Zebulon: plus complet (onglet sécurité, conversion d'une partition FAT32 en NTFS) mais moins simple à utiliser pour les débutants.
---
*Ports Databases:
-
IANA
.
-
Tantalo
.
-
PortsDB
.
-
GRC
(Steve Gibson).
-
PcFlank
.
-
UponLevel
.
-
FrameIP
(in french only/en français).
-
Sockets
.
Part 4: Accounts and Rights management