INTEGRITY/HASHES/CHECKSUM Utilities



Here we're only interested in Integrity verification tools, not in more advanced integrity host protection.

Ici nous ne nous intéresserons qu'aux utilitaires de vérification d'intégrité, non aux systèmes plus évolués de protection par intégrité.

Ditmar den Engelsen is the writer of an interesting article about the subject.
"Budget File and System Integrity Verification " can be found here.



***My choice/Mon choix:


-HashCalc.
-MD5Summer.

Un package de langue Fr. est disponible sur la page de téléchargement.
Un peu d'info chez nos amis de Framasoft.
-HashOnClick and FingerPrint by 2Brightsparks.
-Hasher.
-FileChecker.

-FIVE (SHA-1):

can scan and detect which files had been added/removed (snapshot).
Peut scanner un dossier et détecter ceux qui ont été ajouté/supprimé.

- SecureTray Util:

this diabolic tool by Sarah Dean is full of functions (encryption/shredding) and is more recommended to advanced users.
Cette utilitaire diabolique de Sarah Dean, riche en fonctions (cryptage/effacement), est destiné aux utilisateurs avancés.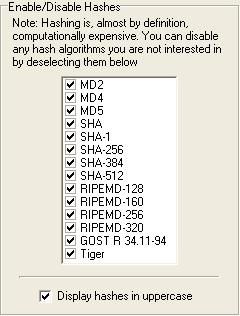 -GFI Languard (advanced users/utilisateurs avancés).

-IntegrityChecker.



***Other choice/autre choix:
On command line only for some of them/en ligne de commande seulement pour certains

-Hash.
-MD5Deep.
-MD5 Utilities.
-MatMD5.
-FastSum .
-ACSV.
-HashTab.
Une bréve introduction et un aperçu chez nos amis de Toufr.

-DirectoryDigest.
-Verifier.
-FSUM.
-HkSFV.
-Dsfv and MD5/SHA/CRC utilities.
-SHAFiles .
-Microsoft FCIV: File Checksum Integrity Verifier.
-Online service/service en ligne: Knowngood.



***Windows File Protection (WFP):


Microsoft informations.

A few informations here or here.


D'autres infos sur hotlinepc.


WFP Switcher:

a free tool which let the user disabling and reenabling Windows File Protection.

un utilitaire gratuit qui permet de désactiver et de réeactiver WFP.


Discalimer/avertissement:

when the system is suspected to be compromised (by a rootkit or anything else), the WFP is often spoofed/disabled, that's why any verification should be done from external drives.

quand le système est suspecté d'être compromis (par un rootkit ou assimilés), WFP est parfois désactivé, et il est indispensable d'opérer une vérification via supports externes .